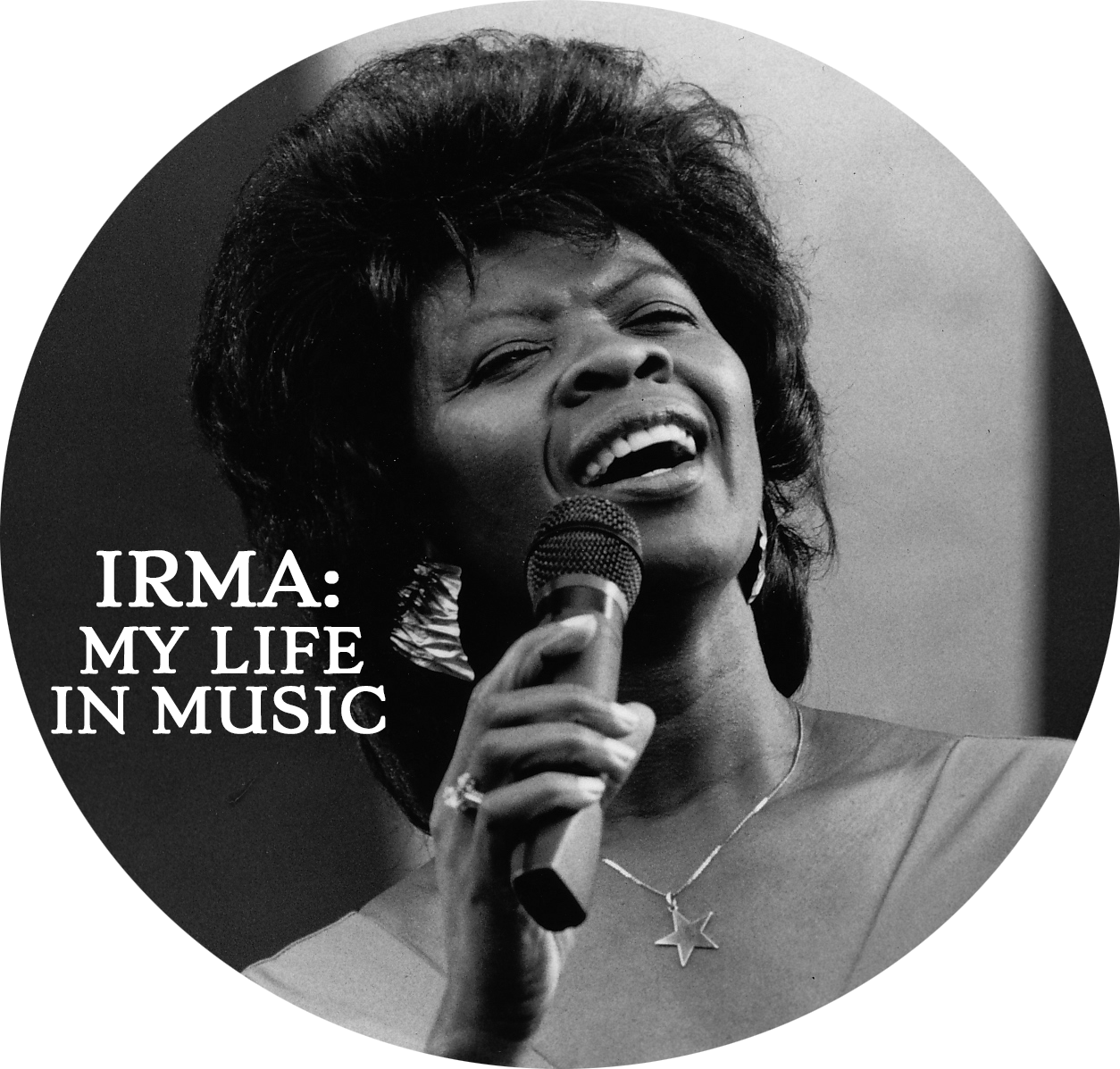 IRMA: MY LIFE IN MUSIC

Watch it on Sunday, February 20 at 2pm and on Saturday, March 12 at 7:30pm on WYES-TV, wyes.org/live and on the WYES and PBS apps.

VIEWER UPDATE:
Live out of WYES' viewing area? Then this message is for you...

Beginning February 2022 public television stations across the country will have the opportunity to air IRMA: MY LIFE IN MUSIC.

Check with your local public television station for air dates and time. The program is distributed nationally by American Public Television.


The 90-minute documentary premiered on WYES-TV in October 2021.
*There are no DVDs available of this program.
WYES-TV will broadcast and stream a new documentary on the life and career of GRAMMY Award-winning artist Irma Thomas.
The program is produced by Michael Murphy Productions with the New Orleans Jazz & Heritage Foundation.
IRMA: MY LIFE IN MUSIC is written and directed by Cilista Eberle and Michael Murphy.
IRMA: MY LIFE IN MUSIC will include an extensive interview with Irma herself, as well as archival and new interviews from many of her colleagues including record producer Scott Billington; producer and director of the New Orleans Jazz & Heritage Festival Quint Davis; former GRAMMY Awards telecast producer Ken Ehrlich; recording artist Erica Falls; recording artist and actress Ledisi; singer and songwriter Bonnie Raitt; creative director of Preservation Hall Ben Jaffe; pastor of the Nazareth Baptist Church Reverend Marc A. Napoleon; musician, songwriter and record producer, the late Allen Toussaint, and his children Alison Toussaint-LeBeaux and Reginald Toussaint; and Recording Academy Membership & Industry Relations representative Reid Wick.

Included will be archival performance and interview footage culled from decades of performances filmed by Michael Murphy Productions. The footage is now part of The New Orleans Jazz & Heritage Foundation Archive. The program will also include rare photos from Thomas' career.
"The New Orleans Jazz & Heritage Foundation is honored to be a co-producer in this documentary celebrating the tremendous talent and achievements of Irma Thomas. This film is in step with the Foundation's mission to honor and support Louisiana musicians," said Don Marshall, Executive Director of the Foundation. "We are delighted we can put a spotlight on her amazing career by using materials from the Jazz & Heritage Archive."
First and foremost, the program will be visual storytelling at its best as Irma will tell her own story, allowing audiences to relish the opportunity to get to know the artist and woman that, quoting Bonnie Raitt, "Her voice today is as—just as beautiful and sultry and powerful as it was on her first records. And she's a legend. She's as good today as she was the day she came out of the church singing."
Born in Ponchatoula, Louisiana as Irma Lee, Thomas first sang with a Baptist church choir as a teenager. By the age of 19, she had already been married twice and had four children. Retaining the last name of her second husband, she worked as a waitress and occasionally sang with bandleader Tommy Ridgley. With his help, she landed a record deal with Ron Records and by 1959 her first single, "Don't Mess With My Man," ranked number 22 on the U. S. Billboard R&B record chart.
In numerous interviews, New Orleans music legend Allen Toussaint frequently noted that he often wrote songs with Irma Thomas' voice "in his head." As the producer, composer and pianist of many Minit Label recordings, Toussaint hired Thomas; and out of this collaboration came such beloved recordings as "It's Raining," "Ruler Of My Heart" and "Old Records."
Throughout the '60s, Thomas found work playing locally and on the Gulf Coast at clubs, proms and other high school dances. "I have fans who have been with me since they were teenagers," she said in a recent magazine interview. Thomas later recorded for Imperial Records and Chess Records and ultimately moved to California in the late '60s. She returned to New Orleans in the early 1980s and opened a music club.
In 1991 she was signed by Rounder Records and received her first GRAMMY nomination for Live! Simply The Best. She recorded numerous gospel albums and received yet another GRAMMY nomination in 1999 for the album Sing It!
In 2005 Hurricane Katrina forced her to relocate to Gonzales, Louisiana, but she returned as soon as her home is eastern New Orleans was restored. Teaming up with Scott Billington and Rounder again, she recorded the album After The Rain, which was awarded the GRAMMY for Best Contemporary Blues Album in 2007.
Thomas has performed with James Taylor, Paul Simon and Marcia Ball and has performed around the world. Her 1964 rendition of "Time Is On My Side" inspired a version by the Rolling Stones, and she plays annually at the New Orleans Jazz & Heritage Festival.
"No matter what kind of song she is singing, Irma's big, warm voice has more honesty in it than just about any you will ever hear," states Scott Billington, who produced her albums for Rounder Records.
Songs featured in IRMA: MY LIFE IN MUSIC:
Precious Lord
(You Can Have My Husband) But Please Don't Mess With My Man
Breakaway
Hip Shakin' Mama
Ruler of My Heart
I'm Gonna Cry Until My Tears Run Dry
Old Records
It's Raining
Time Is On My Side
I Wish Someone Would Care
If You Want It Come & Get It
Stone Survivor
Smoke Filled Room
Simply The Best
I Done Got Over It
Come On
In the Middle Of It All
That's All Right
Down By The Riverside
IRMA: MY LIFE IN MUSIC is produced by Cilista Eberle, Rachel Lyons, Jim Moriarty and Michael Murphy. Serving as executive producers are Peggy Scott Laborde, Don Marshall, Blue Resnick and Jeff Resnick.
IRMA: MY LIFE IN MUSIC is part of WYES' Jazz Fest in Your Living Room. Throughout the month of October and all day long on Saturday, October 9th, WYES will broadcast Jazz Fest inspired programming. Enjoy legendary performances without the crowd in the comfort of your own home. A full list of programs and air dates, coming soon. All WYES broadcasts air simultaneously on wyes.org/live and on the WYES and PBS apps.

IRMA: MY LIFE IN MUSIC is sponsored in part by the New Orleans Jazz Museum, The Helis Foundation and the WYES Producers Circle, a group of generous contributors dedicated to the support of WYES' local productions.
SPECIAL THANKS TO THE FOLLOWING:
ABOUT WYES:
For 64 years, WYES has worked to inform, teach, illuminate, entertain and inspire our entire community. It is the oldest public television station serving southeast Louisiana and the Mississippi Gulf Coast, the 12th oldest in the nation, and the most utilized non- profit organization in our two states with as many as a half-million people using our broadcasts, outreach activities and website each week. We are proud to be part of the nation's largest classroom, the largest stage for the arts and a trusted window to the world. For more information, call (504) 486-5511 or visit wyes.org.

ABOUT THE NEW ORLEANS JAZZ & HERITAGE FOUNDATION:
The New Orleans Jazz & Heritage Foundation is the nonprofit organization that owns the New Orleans Jazz & Heritage Festival presented by Shell. The Foundation uses the proceeds from Jazz Fest, and other funds, for year-round programs in education, economic development and cultural enrichment. These free programs were developed over many years to ensure that we give back to Louisiana. The Foundation also owns the George and Joyce Wein Jazz & Heritage Center, radio station WWOZ 90.7-FM and the Jazz & Heritage Archive.
The Archive is a repository of artifacts and information from the Foundation's various programs and activities – including Jazz Fest. It has collections of audio, video, photographs and other materials of cultural and historical importance. Learn more about the Jazz and Heritage Archive at www.jazzandheritagearchive.org

ABOUT MICHAEL MURPHY PRODUCTIONS INC, (MMP):
Michael Murphy Productions Inc,(MMP) is an award-winning media production company based in New Orleans. Michael Murphy and his partner Cilista Eberle have produced and directed critically acclaimed & award-winning documentaries, television and web based programming distributed by companies such as Amazon, Apple, AT&T, A&E Network, ABC, CBS, Fox, MSN, NHK, PBS, Sony Pictures, Turner TV, Viacom, and Warner Brothers. For 25 years the company filmed performances from the New Orleans Jazz & Heritage Festival. Michael also served as President of House of Blues Productions overseeing all television & radio programming from 1992 – 1997, creating and producing the 26-part television series "Live From The House of Blues". Michael and Cilista's most recent film, "Up From The Streets - New Orleans: The City of Music" won a Gold Award for Documentary Feature at the Worldfest-Houston International Film Festival, an Excellence in Filmmaking Award at the International Indie Film Festival and 4-time nominee for Best Feature Length Documentary Film. Together the team has won multiple Telly Awards and an Emmy for their television and web series work. They were producers on the Smithsonian Folkways New Orleans Jazz and Heritage Festival 50th Anniversary boxed set, and recently they have produced productions for CBS and Netflix.