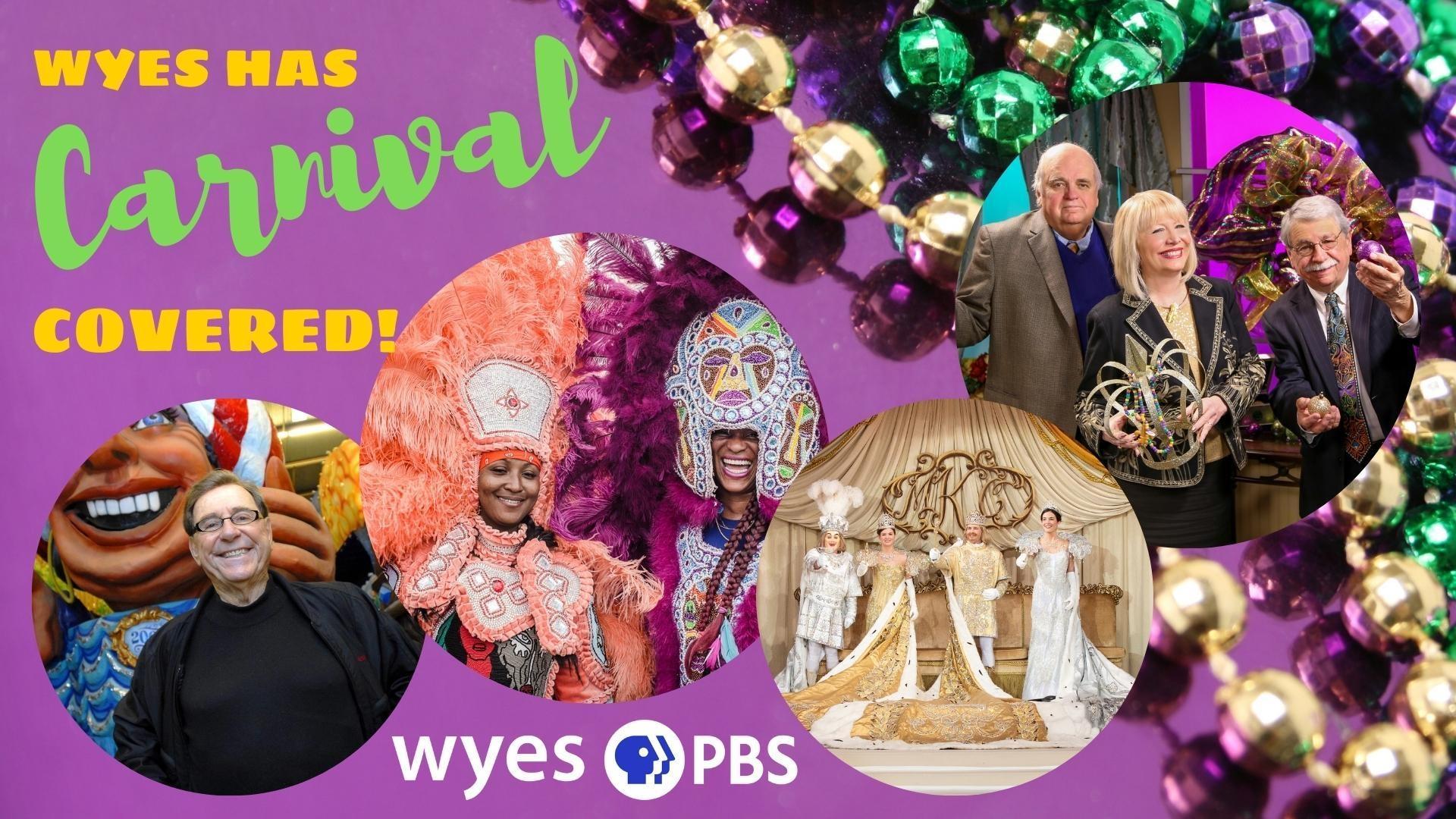 Carnival Quiz Winners:

Tony & Ann Stoltz
Sterling Snowdy
David Armstrong
Debbie Ward
Kristen Gurtner
Dan Dilzell
Donna Moran
Dee deMontluzin
Philip James
Phyllis Muller
THE 2022 REX BALL AND MEETING OF THE COURTS OF REX AND COMUS
25th year on WYES!
Live on Mardi Gras Night, Tuesday, March 1, at 7:00 p.m. & 11:30 p.m.
THE 2022 REX BALL AND THE MEETING OF THE COURTS OF REX AND COMUS promo; LIVE March 1 at 7pm
WYES presents live coverage of the 2022 Rex Ball in its entirety, along with the historic Meeting of the Courts of Rex and the Mistick Krewe of Comus.

Both Carnival balls will return after a one-year hiatus due to the pandemic. This year is also historic since the Rex Organization celebrates its 150th anniversary.

Special features will highlight the history of both krewes. Executive Producer and host Peggy Scott Laborde will interview current and past royalty and provide commentary, along with Carnival historian Errol Laborde and Rex historian Will French.

The program will also stream live on WYES' Facebook and YouTube pages.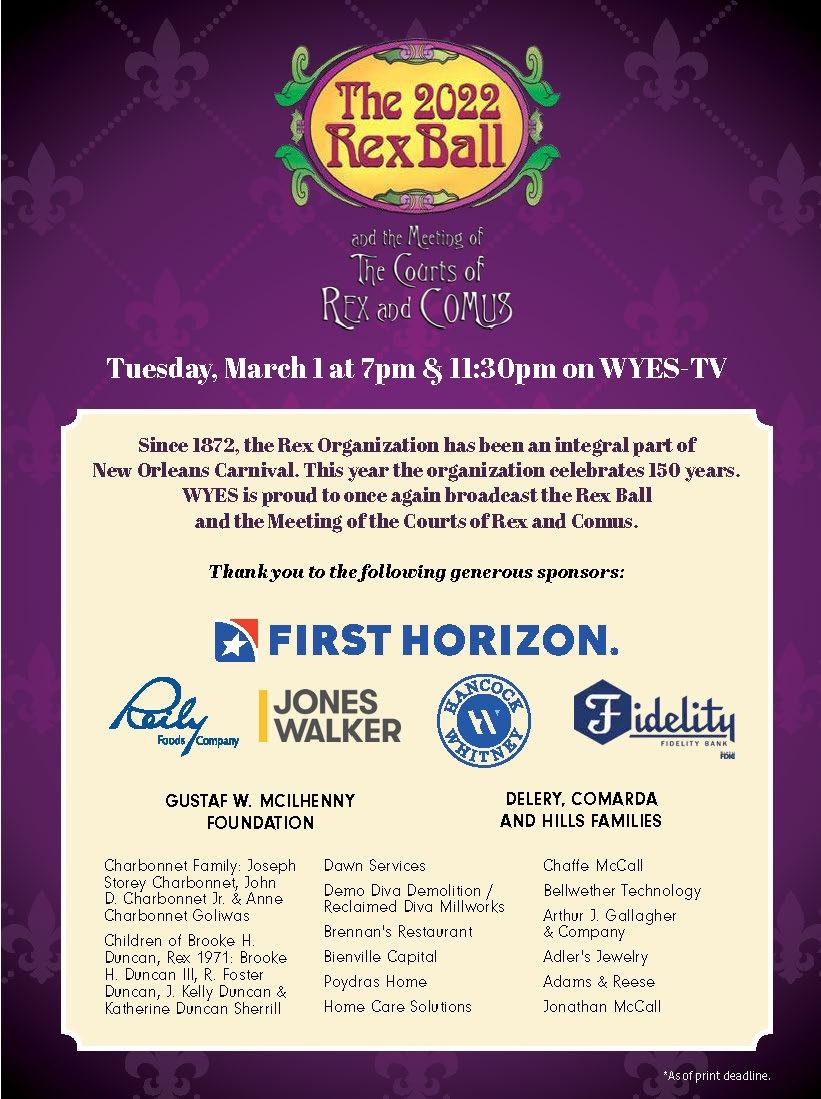 Mardi Gras Marathon
Tuesday, March 1 beginning at 9am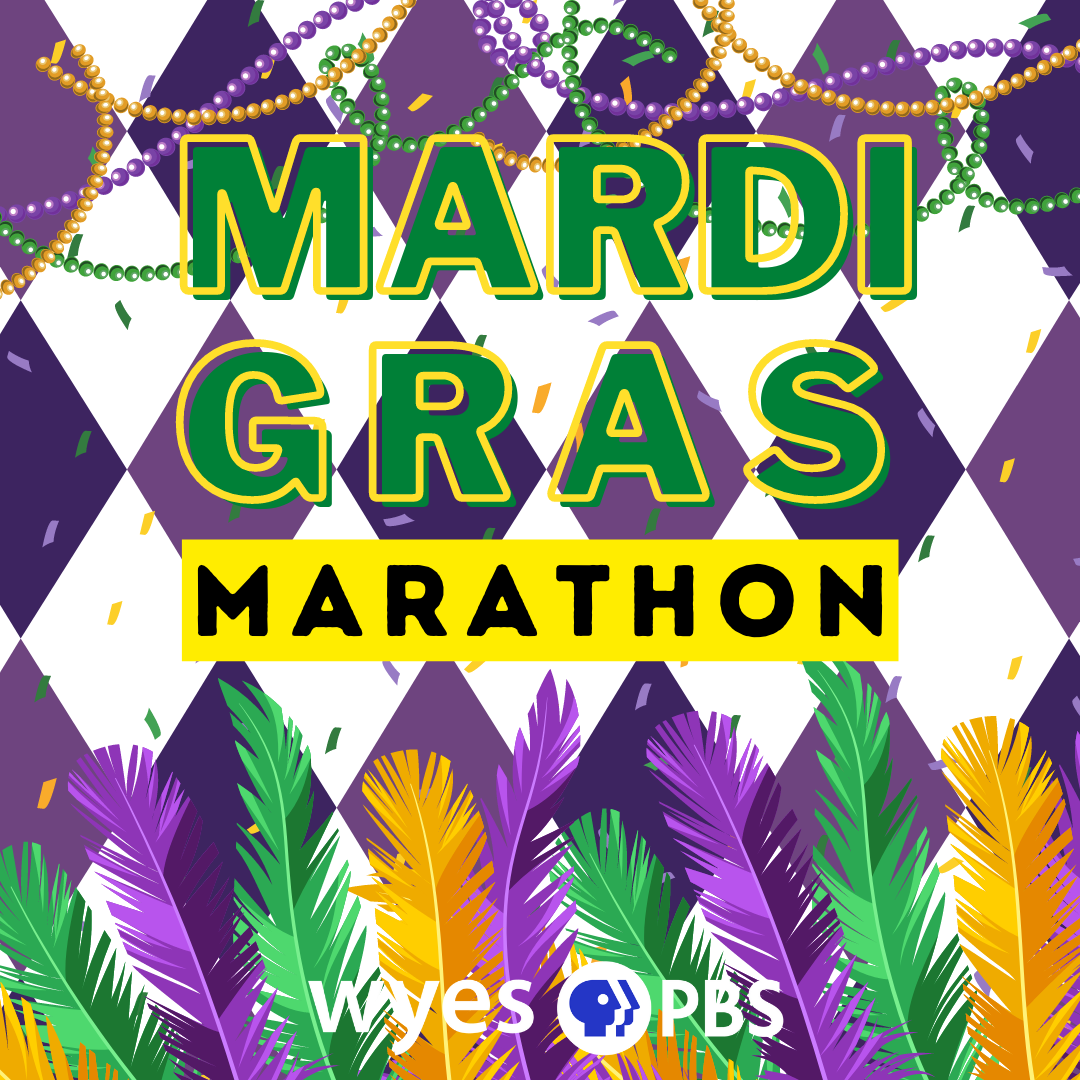 9am
STEPPIN' OUT "It's Carnival Time"
9:30am
WHILE WE DANCED: THE MUSIC OF MARDI GRAS
11am
CHAPPY GOES TO MARDI GRAS
Noon
BIG CHIEFS OF CARNIVAL: THE SPIRIT MOVES MY NEEDLE
12:30pm
BIG QUEENS OF CARNIVAL: IT'S YOUR GLORY
1pm
MARDI GRAS STORIES
2pm
CARNIVAL MEMORIES

3pm
ALL ON A MARDI GRAS DAY

4pm
NEW ORLEANS PARADES FROM THE PAST

5pm
BLAINE KERN: THEY CALL HIM MR. MARDI GRAS

6pm
PBS NEWSHOUR

7pm & 11:30pm
LIVE!
THE REX BALL AND THE MEETING OF THE COURTS OF REX AND COMUS



BLAINE KERN: THEY CALL HIM MR. MARDI GRAS

Premiered February 7, 2022 on WYES-TV. Repeats Saturday, February 26 at 10pm; Sunday, February 27 at 3:30pm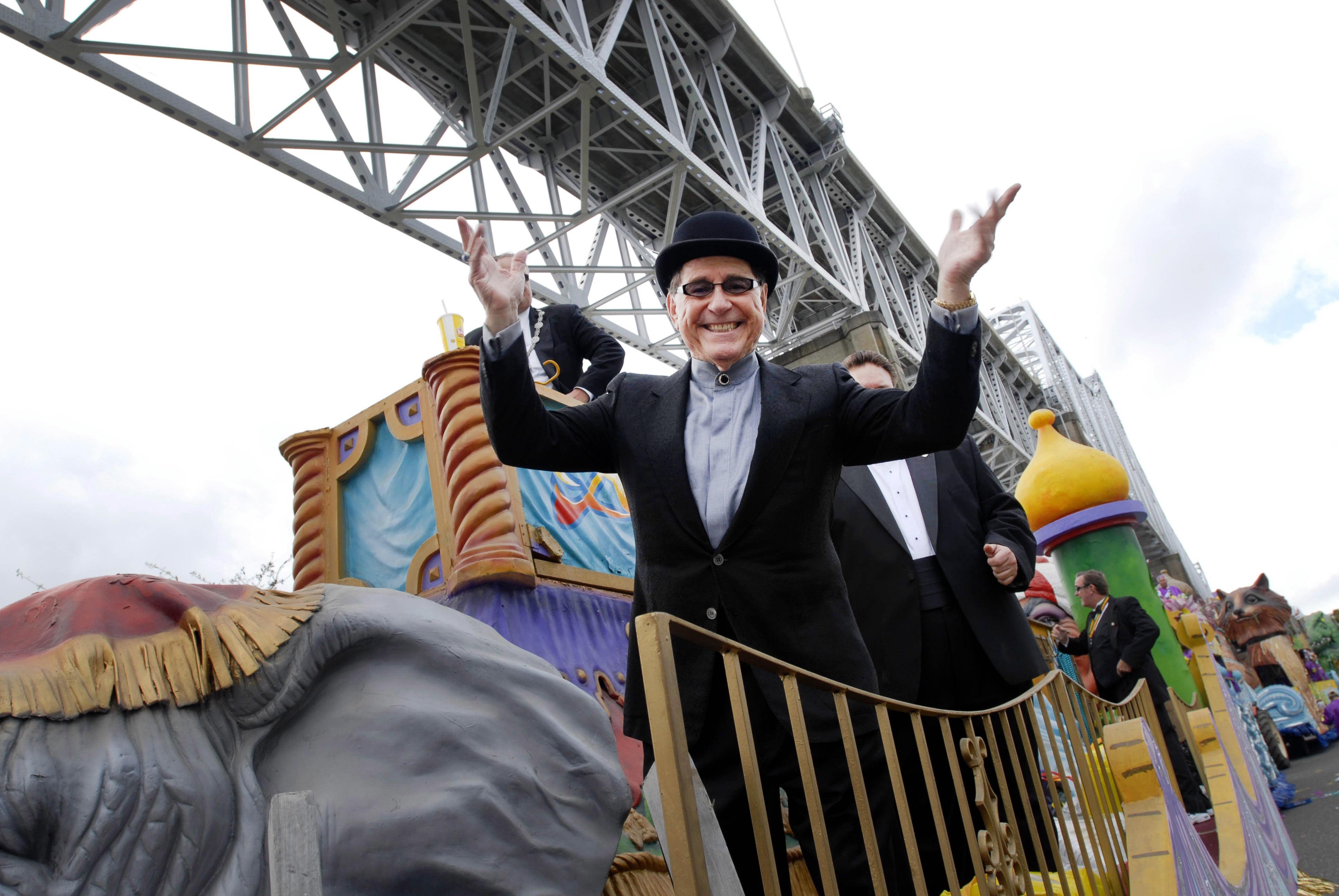 It's why they call him "Mr. Mardi Gras"!

Blaine Kern, Sr. almost single handedly transferred Mardi Gras from a series of small exclusive parades into a billion dollar a year tourism juggernaut. He did so by reimagining and reshaping Carnival parades into eye-popping, animated extravaganzas that draw millions of people to witness the spectacle.

The business Kern built 75 years ago opened Carnival to people of all races and backgrounds. He also founded and grew the largest float-building business in New Orleans, and the nation, creating floats and parades for Disney, Universal Studios, other parts of the country and the world — including China, Canada, Mexico and Japan.

Producer and narrator Dennis Woltering shares the colorful life story of the legendary float builder in the new documentary BLAINE KERN: THEY CALL HIM MR. MARDI GRAS.
Interviewed in BLAINE KERN: THEY CALL HIM MR. MARDI GRAS are: Four of Kern's children — Blaine Kern Jr., Barry Kern, Brian Kern and Blainey Kern; Kern's widow Holly Kern; Carnival and krewe historians Errol Laborde, Arthur Hardy, Henri Schindler, Dr. Stephen Hales (Rex), Col. Clarence Becknell Sr. (Zulu) and Al Robichaux Jr. (Alla); Carnival krewe captains Owen "Pip" Brennan Jr. (Bacchus), Sonny Borey (Orpheus), Staci Rosenberg (Muses) and Gwen Rainey (Mystic Krewe of Femme Fatale); Longtime friends Jacquelyn Brechtel Clarkson and Lt. Gov. Billy Nungesser
BLAINE KERN: THEY CALL HIM MR. MARDI GRAS sponsors:
Carnival Close-Up with Peggy Scott Laborde
EVERY TUESDAY!
Online only.

Watch below.
Head to WYES' Facebook page or the WYES YouTube Channel for "Carnival Close-Up with Peggy Scott Laborde."

Every Tuesday, we will share an online segment with Peggy highlighting some of her favorite pieces from her collection of Mardi Gras memorabilia as we count down to the big day. 💜💚💛
STEPPIN' OUT "It's Carnival Time"
36th year on WYES!

Premieres Thursday, February 10 at 7:30 p.m.; Repeats Mon., Feb. 28 at 9pm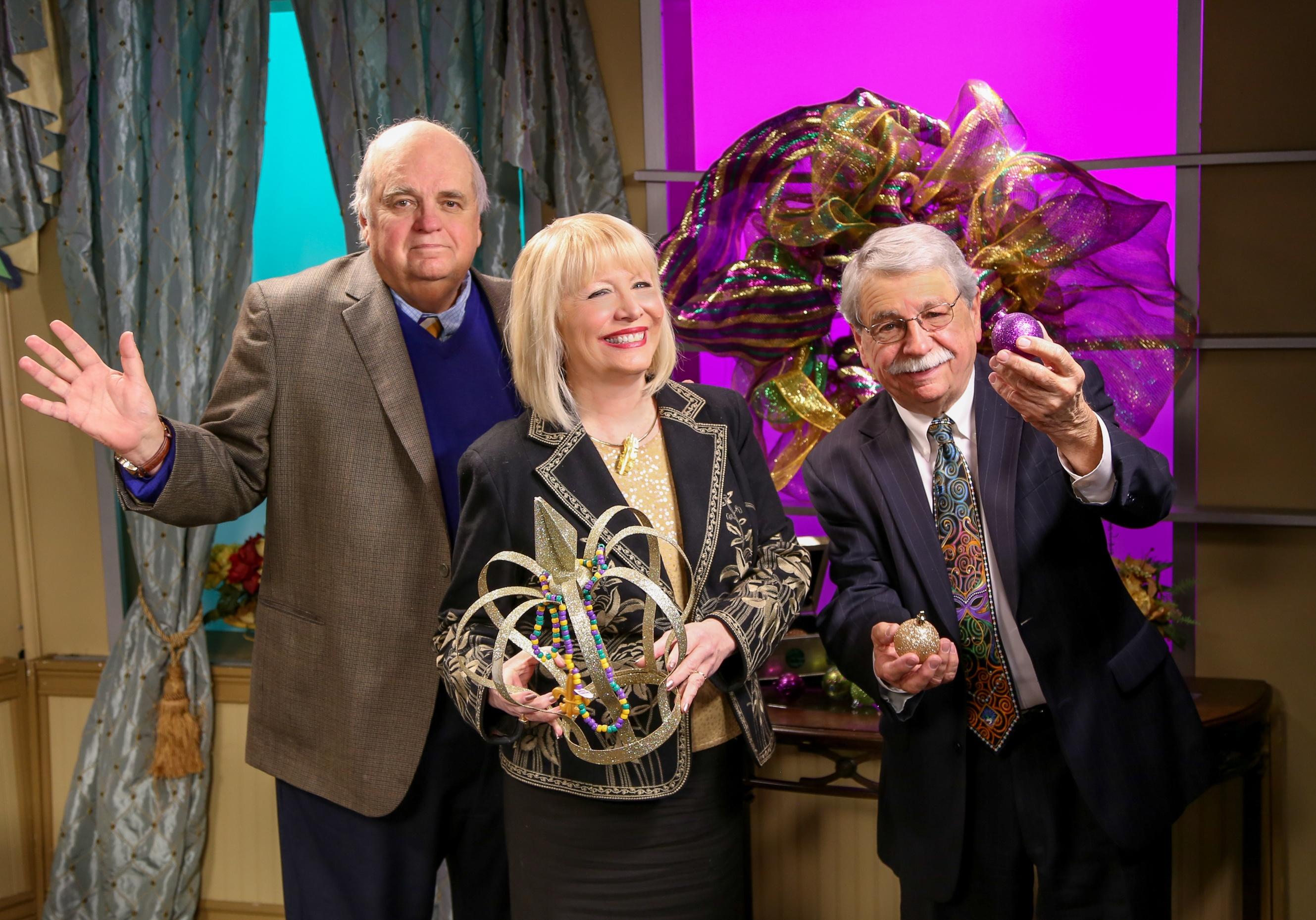 Host Peggy Scott Laborde, along with Carnival historians Arthur Hardy and Errol Laborde, give their annual overview of the upcoming Carnival season.

Hardy is the publisher of Arthur Hardy's Mardi Gras Guide, now in its 46th year. Errol Laborde is the author of many Carnival-related books, including Mardi Gras: Chronicles of the New Orleans Carnival.

This year's topics focus on activities concerning the 150th Anniversary of the Rex Organization, the 35th anniversary of Lundi Gras and changes to the celebration brought on by the coronavirus pandemic. One example is the popularity of the House Floats phenomenon.
Repeats: Sunday, February 13 at 2pm; Saturday, February 19 at 11:30pm; Tuesday, February 22 at 10:30pm; Thursday, February 24 at 7pm; Friday, February 25 at 11pm; Sunday, February 27 at 3pm; Monday, February 28 at 9pm