TOM BENSON: THE LIFE AND LEGACY OF A NEW ORLEANS PRESENTED BY OCHSNER HEALTH SYSTEM
FOR UPCOMING AIR DATES CONTACT: SGOLEMBIEWSKI@WYES.ORG
---
WYES-TV, New Orleans premier public television station, is pleased to bring New Orleans Saints and Pelicans fans its newest documentary — TOM BENSON: THE LIFE AND LEGACY OF A NEW ORLEANS SAINT presented by Ochsner Health System. Produced with the full cooperation of Tom and Gayle Benson, the hour-long documentary premiered on WYES-TV/Channel 12 on Wednesday, May 23, 2018 at 7:00 p.m.
Tracing the life of the business tycoon, who hailed from New Orleans' 7th Ward, the program will share exclusive photos from the Bensons' personal collection. Childhood images of Benson with his beloved parents and brothers illustrate the humble background of the self-made billionaire. Other rare photos bring to life his formative events, including Benson as a student at St. Aloysius and as a young seaman on the battleship South Dakota during World War II. The program also features archival materials and footage shot in San Antonio that explore the car mogul's meteoric rise in the automobile industry.
Working with the Saints organization, the production crew was given access to private moments with the Bensons. Shooting began in August 2017 with the 90th birthday celebration for Tom Benson at the New Orleans Museum of Art, a joyous occasion attended by 300 well-wishers. Taping during football season provided a behind-the-scenes look at Benson's game day traditions that begin with a private mass in the Mercedes-Benz Superdome.
Angela Hill, former WWL-TV news anchor and radio host narrates. Hill, a longtime friend of the Bensons, sat down with both Tom and Gayle for candid interviews about their lives. Interviews with Benson's nephew Larry Benson, Jr., Archbishop Gregory Aymond, President of New Orleans Saints and New Orleans Pelicans Dennis Lauscha, Executive Vice President and General Manager of New Orleans Saints Mickey Loomis, Audubon Institute President Ron Forman and others offer insight into the homegrown hero with the common touch who contributed so much to the community.
TOM BENSON: THE LIFE AND LEGACY OF A NEW ORLEANS SAINT presented by Ochsner Health System was written and produced by Terri Landry. Executive Producer is Jim Moriarty. Associate Producer is Dawn Smith. Edited by Larry Roussarie. Photographers are Lenny Delbert and Lenny Delbert, Jr.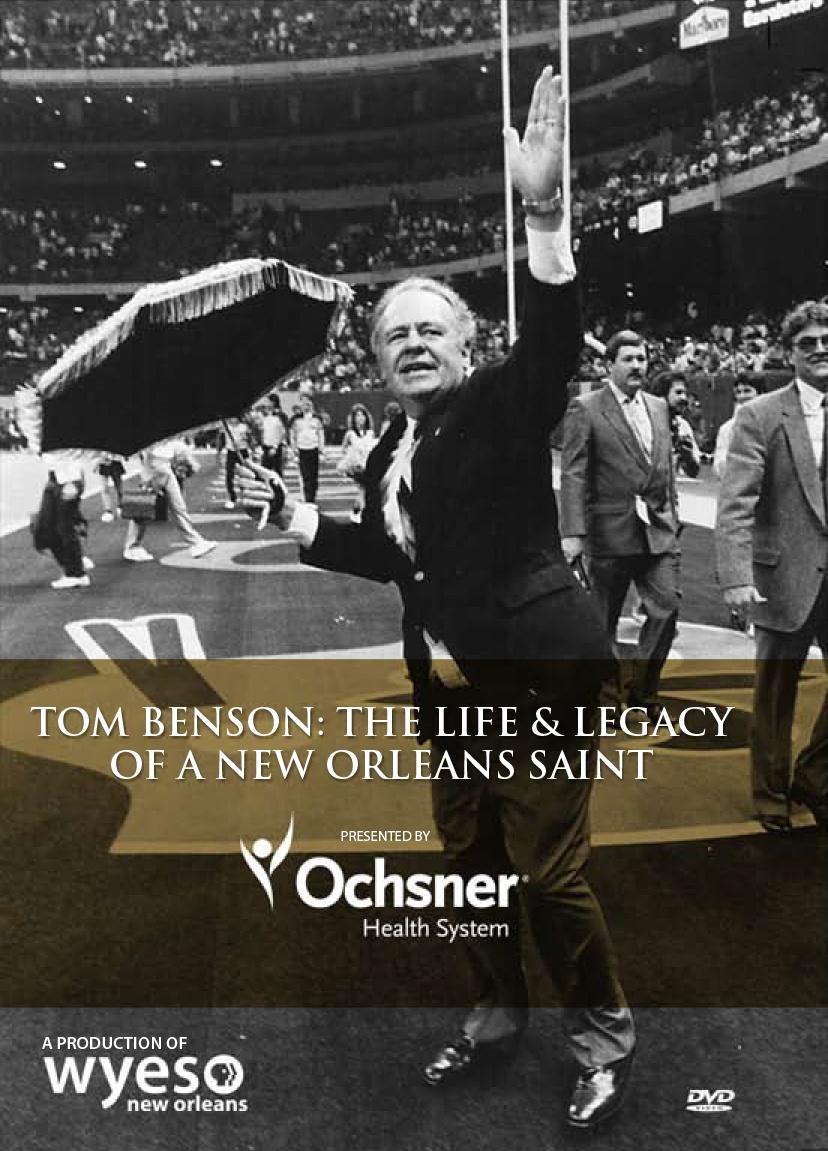 A DVD of the program can be purchased by calling 504-840-4883 or click here.